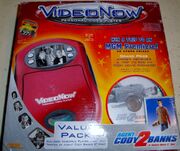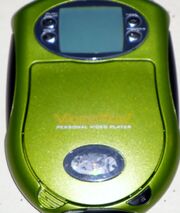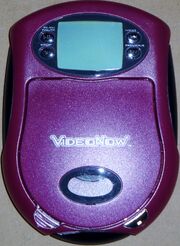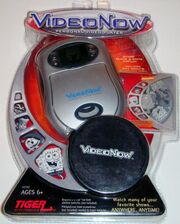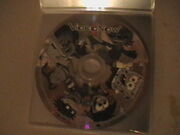 The original VideoNow Personal Video Player in black & white was the first VideoNow player in the line and was released in mid-2003 by Tiger Electronics. It takes 2 'AA' batteries. The screen is small, with a sharp black & white display. PVD's (personal video disc) designed for the player. The discs allow for about 30 minutes of video, so they are well suited for children's television shows including Nicktoons. Video data is stored on the left audio channel with mono audio on the right channel. The video plays at about 15 frames per second.
The player was discontinued in late 2004, a few months after the release of the VideoNow Color.
The promotional VideoNow PVD that came with the player.
Index:
VideoNow Intro
VideoNow Demo
Previews - Nickelodeon - this segment contains episode clips from these Nicktoons: SpongeBob SquarePants - Bubble stand & Ripped Pants - Something Smells & Hooky - Bossy Boots & Life of Crime - The Fairly OddParents: Fairy Fair Quite Contrary & Nectar of the Odds - Jimmy Neutron: I Dream Of Jimmy & Raise the Oozy Scab - Rocket Power: Otto 3000 & Night Prowlers - Rugrats: And the Winner Is, Dil's Bathtime & Bigger Than Life - The Wild Thornberrys: Gift Of Gab
Bonus SpongeBob episode - Band Geeks
Nickelodeon Coming Attractions - New Home Videos and Video Games
There was also one with a PVD case (blue player only) included and one with Making Of Agent Cody Banks 2 with the player in red and the light.
These accessories were also released for the player:
Carrying Case - holds your VideoNow player.
Headphones - to have sound to your ears.
Light - to brighten the picture on your VideoNow.
PVD Case - holds up to eight VideoNow PVD's.
The VideoNow player came in these colors:
Community content is available under
CC-BY-SA
unless otherwise noted.